My name's Dan. Internet marketer by trade (no one's more surprised by that than me), and writer by nature. Once, I made an unreasonable amount of money writing about cell phones. I wrote an RPG game book that's getting published any old month now. I also blog about movies and pop culture, although rather infrequently these days. I love writing and the craft of writing, and so I made this blog.
What you'll probably find here:
Things that inspire me.
Reflections, complaints, and yawps about the writing life.
Humorous blurts on those days I have nothing insightful to say.
Some mildly serious hard-nosed advice about what it takes to be a writer. I'll talk about my own experiences and dole out some gentle advice, but if you're looking for a gruff drill sergeant, I'm probably not your man.
What you probably won't:
Internet marketing. With any luck, this page will be the first and last time you read anything about it.
Weekly pity parties about how I **** up real bad. I have Livejournal and screaming myself hoarse in a broom closet for that.
If you want to drop me a line, you can email me at dan@surlymuse.com.
Why Surly Muse?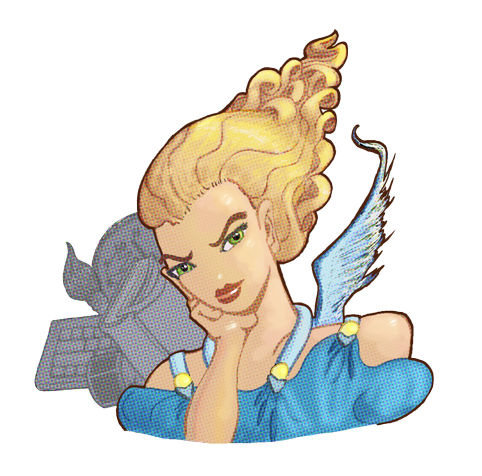 In Zen in the Art of Writing, Ray Bradbury talks about the muse as a "the most terrified of all virgins" who will flit away at the first sign of trouble. Much as I love Ray Bradbury, I kind of loathe that imagery. Do a Google search for "muse" and, aside from pictures of the pop band, you'll find a lot of sexualized pictures of fey-looking women with their racks hanging out. I'm not a fan.
In On Writing, Stephen King described the muse as an overweight guy chomping on a cigar who comes into your house and starts rooting through all your stuff. Or something like that. I'm too lazy to look up the exact phrasing right at the moment, but at least it wasn't about flitting virgins.
Then, a while back, I started thinking about a new domain for talking about my writing. Using my name seemed too bland. I didn't want to come up with something overly foreboding or clever. Then it struck me that I think of my own "muse" as somewhere in between Bradbury and King's respective images: not grotesque or repellent but still tough to please. Kind, but finicky. Inspirational, but, well… surly.
So that's where the domain name came from. For awhile, I thought maybe I should come up with something more masculine, but eh. Screw it.